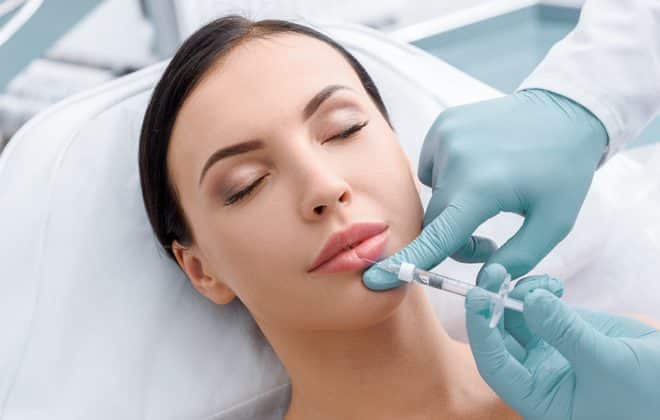 Dermal fillers are gel-like material that are used to rejuvenate the face by restoring lost volume, smoothen lines and soften facial wrinkles
The Aging process is a very complicated process, as the one age the face tend to shrink. All components shrink in size the bone diminish, the fat decreases, the muscle tends to get smaller and the skin becomes thinner. This contribute to the sagging of the skin, deepening of the skin lines.
The sun also plays a role in damaging the skin with it's harmful ultraviolet waves which dehydrates the skin and increases the fine lines.
What are fillers used for?
Dermal fillers are used to restore the volume giving the face it's youthful full contour and fill the deep and superficial lines to smoothen them out, it could be used in:
Brow Lift
Cheek Augmentation to restore its youthful volume and give it a nice contour
Under the eyes (Tear trough)
Plump and contour lips.
Fine lines around the eye if botox fails
Laugh lines (nasolabial lines)
Sad lines (marionette lines)
Chin, to diminish wrinkles and give it more volume.
Jawline, to enhance it (Texax)
Diminish scars.
What are Fillers Made of?
The Most popular and commonest component is Hyaluronic acid (HA). It's been researched widely by different manufacturers and it's safe to be used to restore volume and diminish wrinkles.
Other components maybe used to enhance the effect of Hyaluronic acid like Calcium hydroxyapetite which is used in some brands
Precautions before Injecting dermal fillers
Stop any blood thinning medications like aspirin or anticoagulants at least 1 week before your procedure.
Stop any NSAID drugs like Brufen or Cataflam for 48 hours (paracetamol is safe)
Avoid any other facial procedure for 1-2 weeks.
How long does injecting a dermal filler injection take?
A couple of minutes for 1 syringe, it may take longer if your injecting more than one
When to expect results after dermal filler injection?
Results are immediate, however it may take a couple of days for the filler to integrate into your skin and tissues to see the final results.
Are dermal fillers safe?
Generally yes, they have a very high safety profile but you have to choose a good manufacturer like Juvederm, Restylane, Belotero and Stylage these are the brands we use in our clinic.
They are all approved by The FDA, CE and EDA(Egyptian drug Authority).
How Long does dermal fillers last?
They usually last from 6-15 months, however there are many factors that can affect the longevity
The brand and manufacturer
The thickness of the filler (viscosity)
The concentration of the material, every brand comes with different concentrations
The area injected
The technique of injection.
You should ask your doctor during the consultation about the expected time it will last for your filler procedure.
How long does filler injection procedure usually take?
Around 5 minutes for 1 syringe, after the local cream anesthetic, the face is prepped and sterilized with alcohol swabs and the injection starts. It may take more time if you're having more than 1 syringe.
Is it painful to inject dermal fillers?
The pain mild and tolerable by all the patients after using the anesthetic cream.
Are dermal fillers permanent?
No, the reputable approved brands are usually not permanent. in fact permanent types of fillers were used in the past but are not used any more due to there high complications rate.
Can dermal fillers be removed earlier?
Yes, if you're unsatisfied with the results of your dermal filler you can consult Dr Mohamed Ashraf you'll get an injection with an enzyme called "Hyalase" which removes the dermal fillers completely and safely. Other option is you can wait for the filler to diminish on its own
How much Filler do I need?
It totally depends on the area you want to enhance and your aim for the procedure, you can see natural beautiful results starting from 0.5 ml (half a syringe) but sometimes you may need up to 5 ml if you aim to restore a whole face.
How much do fillers cost?
Fillers are priced per syringe, each face is different than the other, the amount needed to enhance a cheek of a 25 year old woman is surely different than the amount needed for a 50 years old woman. Also the results you wish for whether full correction or mild natural correction.
During your consultation the amount  of syringes needed and expected results will be explained by the doctor.
Do I need to repeat filler injections after injecting for the first time?
This is entirely your decision, fillers will have no side effect requiring continuous injections.
What are the dermal fillers side effects?
Fillers are usually safe to inject with a very rare major side effects.
Bruises
Swelling
Redness at injection site
These are mild complications and lasts for a few days.
Major complications are extremely rare that might lead to skin necrosis, ulcers and blindness.
Can I have botulinum toxin treatment simultaneously with dermal fillers?
yes, you definitely can have both treatments done in the same setting.