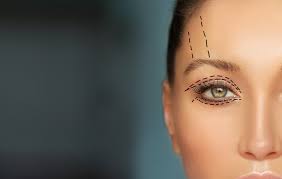 Eyelid lift surgery also known as blepharoplasty. Sagging upper eyelids skin is the main reason why some people consider upper eyelid lift surgery to remove excess skin and fat  in the upper eyelid skin for a more alert, youthful appearance. Bags of fats, grooves and sagging skin in the lower eyelid are reasons for lower eyelid lift or lower blepharoplasty.
As the one ages, the skin looses its elasticity and with the constant pull of gravity the skin tends to sag in different parts of the body, and the face.
What is Blepharoplasty ?
Blepharoplasty (eyelid lift surgery) is a procedure used to deal with droopy skin, fat, and muscles in the eyelids.
During this type of plastic surgery, a doctor removes skin, removes or preserves the muscle, and sometimes removes the fat or redistribute it according to each eye need. That may be causing the area around your eyes to sag.
who are the candidates to eyelid lift surgery?
People complaining of their eye appearance puffiness or skin sagging.
Those who have significant amount of fat bags under the eyes.
People in good health with no eye diseases.
What can eyelid lift surgery treat 
It is considered a medical as well as a cosmetic procedure
Eyelid skin stretches, muscles weaken and fat pockets
Sagging and droopy upper eyelid skin that may interfere with vision.
Bags of fat and sagging skin under the eyes from the aging process or hereditary
Excess skin folds that might be itchy or irritating.
What type of anesthesia is used for an eyelid lift procedure?
Local anesthetic and mild sedation is usually used in this type of procedure. however general anesthesia is also possible.
The Procedure
For upper eyelid lift an incision is made in the upper eyelid in the crease. Excess skin, muscle and fat are dealt with accordingly whether removed or redistributed. the incision is then closed with sutures.
For a lower eyelid lift, an incision is made around 3 mm under the lash line. Excess  skin, muscle and fat bags are dealt with  accordingly, whether removed or redistributed. the incision is then closed with sutures.
How long does it take for an eyelid lift procedure?
The procedure takes from 1-2 hours, and you'll be discharged in the same day from the hospital with some instructions to follow
Recovery from eyelid lift surgery
Takes around 1 week for the swelling and bruises to subside.
Day 1 (day of surgery)
 Procedure 1-2 hours

Discharge from the hospitals on Medications

Analgesics
Antibiotics (oral and ointments)
Eye lubricants and artificial tears
Cold fomentations to reduce bruises and swelling

Day 3
 Follow up visit
Day 7

Follow up visit, the bruises and swelling should be diminished by now
Stitches removal
Final Results should be seen from 1-3 months after surgery
What are the side effects of an upper eyelid lift surgery?
Dryness ,that should be temporary. yet if you suffer from severe eye dryness you shouldn't have an upper eyelid lift
temporary blurring of vision.
Scar visibility.
Ectropian, weaknes of the eyelids resulting in dryness and corneal affection
Is it Safe to have an Eyelid Lift?
Yes, in an experienced well trained hand eyelid lift it is considered a minor safe procedure.
At What age shall i consider blepharoplasty?
At any age, if you are indicated for surgery. But minor deformities in young age group can be treated with non-surgical options like botulinum toxin or fillers with good results.
Can I repeat my eyelid lift procedure?
Yes, eyelid procedures can be repeated if it wasn't done correctly in the first time or your skin drooped more since your first procedure.